The nameless tree outside my window
On a certain vague feeling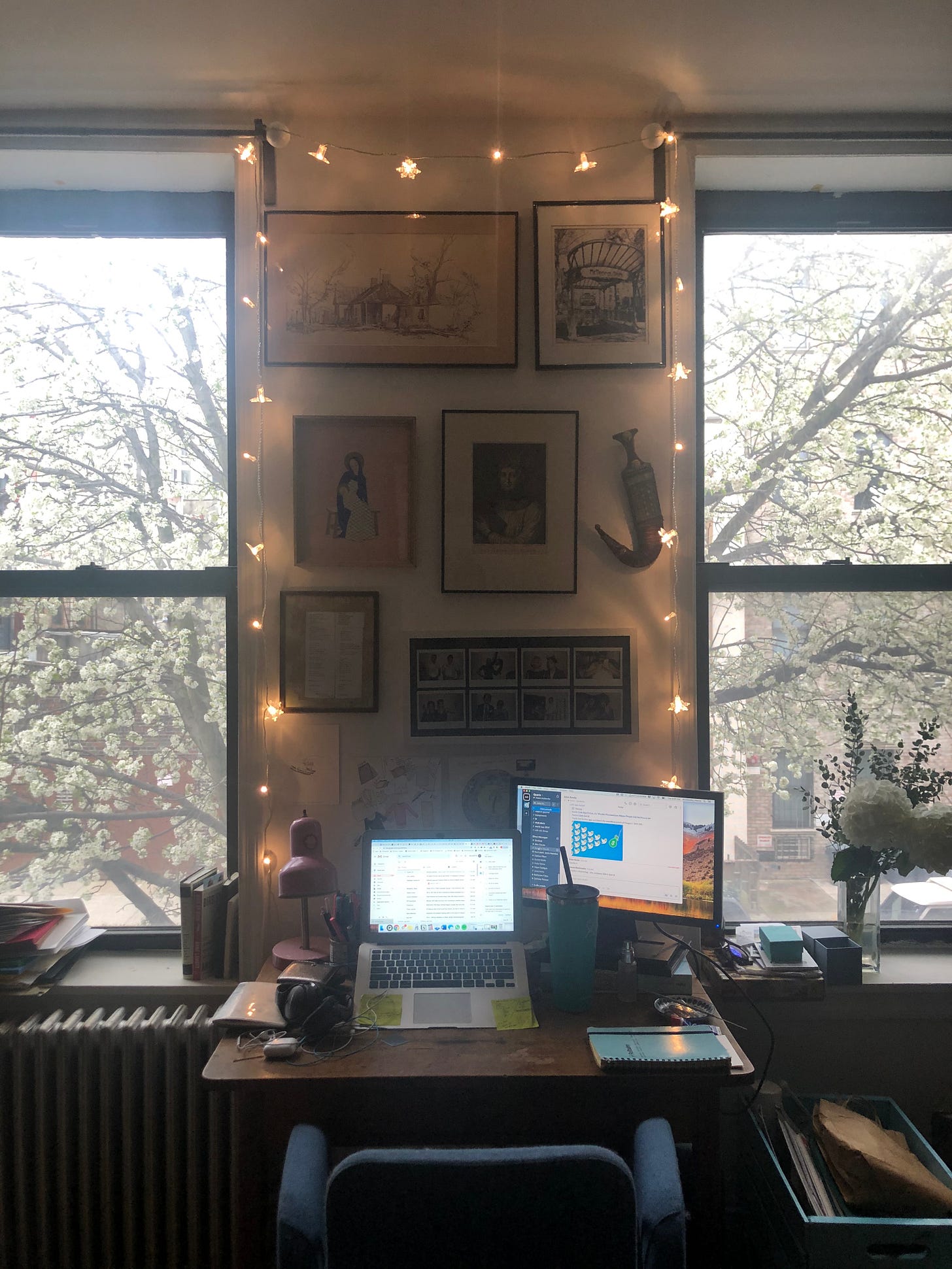 The first draft of this newsletter started with a self-deprecating line about how I'm just another person who decided to take this time of isolation to flood the world with their content. I even used a 💩! But I deleted that sentence. I thought I shouldn't start off that way. These days, some earnestness is in order.
The pandemic has heightened for me a vague feeling I've had for a while: that my roots have been feeling a little loose.
I realized I barely knew my neighbors. I barely knew the history of the neighborhood I lived in and have been tied to all my life. And I definitely couldn't name the white-blossomed tree outside my window.
I've been feeling this disconnect for a while without knowing what it was, but with some innate urges to do something about it.
I started smiling and saying hello to the grouchy Cecilia, an older lady who is the unquestioned queen of our block, chain-smoking in front of her stoop area which she elaborately decorates for every holiday with inflatable Santas or Easter bunnies that have started sagging with age.
I bought a book about Greenpoint, the neighborhood in question, and another to help me draw plants, because I figured that way I'd learn how to name them.
But that's as far as I got. Beyond finally getting Cecilia to smile back at me, I didn't learn much more about her. I cracked the books open, and then closed them.
There were other things to worry or think about.
But, the universe kept nagging. Another book—yes, I definitely buy too many, hoping to find answers to everything—came along, crystallizing for me, at least in part, what it was that I'd been missing. The author wrote about a concept called "species loneliness," coined by Robin Wall Kimmerer, a scientist and member of the Citizen Potawatomi Nation, who writes in her book Braiding Sweetgrass:
I'm trying to imagine what it would be like going through life not knowing the names of the plants and animals around you. Given who I am and what I do, I can't know what that's like, but I think it would be a little scary and disorienting—like being lost in a foreign city where you can't read the street signs.
That was it, I was disoriented, even a little lost. I needed to learn how to read the street signs.
And then came the pandemic. Now I couldn't really venture beyond my neighborhood. The tree that blossomed outside my window was one of the few plants I'd be able to commune with.
On one of my many quarantine walks I listened to a podcast about Greenpoint's history, learning that in the span of just several decades it turned from an orchard to a bustling oil-producing waterfront town. Its prosperity grew thanks to some strategic marriages among the local families, who lent their names to the streets I walked every day, like Meserole or Calyer. Some void filled up, just a little, releasing some of my imagination.
I finally used an app I downloaded ages ago to identify that tree I looked at every day. It was a pear, and what a comforting thought it was that I lived on a pear-lined street.
These of course, are tiny steps. I have yet to exchange anything more than simple pleasantries with my neighbors, read a full book about local history, or recognize the trees lining the next block over.
Recently, I've had the privilege to temporarily relocate upstate to be with my dad who was alone in his house and had been sick with suspected Covid-19 (he's fine, which he announced to me several weeks ago with a joyous yelp over the phone, after many stressful days). And honestly, the other big reason was the ability to go outside without crippling anxiety about having to slalom around everyone else craving sunshine and air.
But the point of this post is not that I love Brooklyn, or my little corner of it, which I do.
The point is that I'm here now, and I'm looking around. I'm not exploring urban plants, but during a Sunday constitutional at a local marsh I'm lagging behind because I'm peering at the ground to learn that American stinging nettles look different from the European ones that would give me nasty burns as a kid (the American ones are smaller, less threatening). I'm not getting to know any neighbors because there just aren't any, but I'm looking up a pretty bird I notice (a red-winged blackbird), and not forgetting it a second later.
Because in the end, the feeling that I couldn't quite pinpoint wasn't rootlessness in the sense that I was desperately seeking a sense of place, or, well, to put down my roots. Instead, it was a sort of inattentiveness. Sadly, the opposite of inattentiveness is described by a word that has been commoditized every which way by the wellness industry.
But fuck it, there's just no other way to put it. So let me light a candle, pull on some leggings, and continue learning to be more mindful.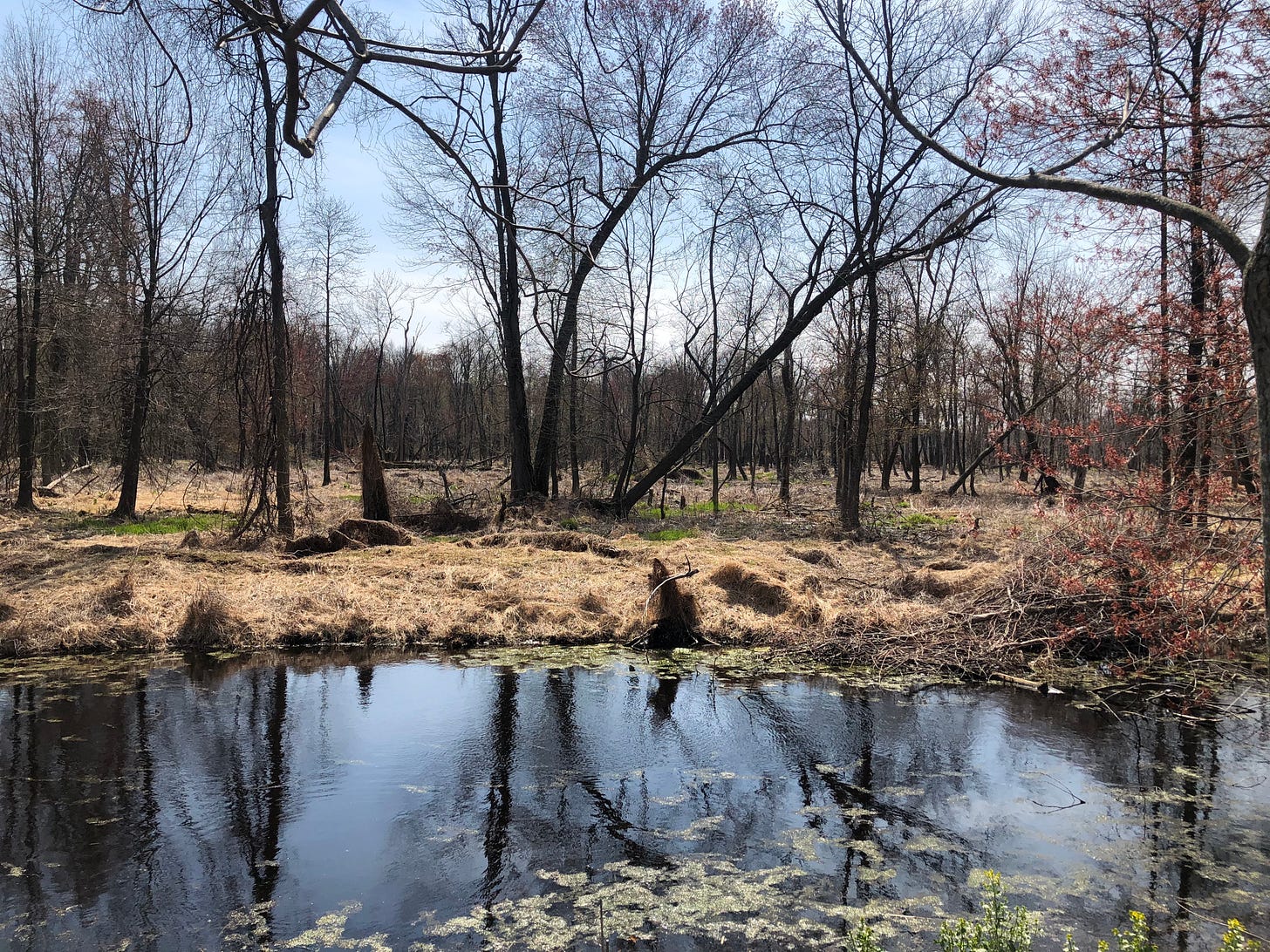 Recent favorites consumable in isolation
Note: This section will be shorter in the future!
Books: Flights and Drive Your Plow over the Bones of the Dead by Olga Tokarczuk. (Yep, it took a Nobel Prize for me to read my countrywoman — 🤷— and I'm glad I did.) The former is really great as a Zoom book club read, if you take it slowly (Shout out to the exceptionally smart ladies in mine!); The Awakening by Kate Chopin; How to Do Nothing by Jenny Odell, where I found that fragment from Robin Kimmerer (which I'm only reading now, so can't yet give a full endorsement)
And if you need some lighter reads: the Mike Bowditch series from Paul Doiron, a gritty Maine mystery series about a insubordinate game warden. Quite fun if read aloud with someone. Red, White, and Royal Blue, is a truly delightful romance that any non-romance reader can pick up and enjoy.
Also! The King of Warsaw by Szczepan Twardoch just came out in English and, while I can't vouch for the translation, the original, about Jewish gangsters in pre-war Warsaw, is fantastic.
Audiobooks: Educated by Tara Westover (many have read this, but I do recommend it in audio version), the Maisie Dobbs series (a light listen about a lady detective in 1920s-30s England)
Articles (I'll spare you straight up news stories, surely you're getting enough of those):
Podcast: In Sugar Calling, the author Cheryl Strayed calls some venerable writers to share their thoughts on the pandemic, and I've found it to be truly uplifting. My favorite is probably the first one, where George Saunders calls the universe a "stinker" and a bumblebee a "moron" (you can also read that part here).
Movies: Age of Innocence (1993); Philadelphia Story (1940); Bowfinger (1999); Point Break (1991); Swing Time (1936); Never Been Kissed (1999); Old Joy (2006)
Social media content (don't worry, it's just funny tweets):
Twitter follow: New Yorker writer Rachel Syme, for content like this thread on small luxuries
Instagram follow: actor Max Greenfield of New Girl fame, solely for his homeschooling of his hilarious daughter
Food: Yotam Ottolenghi's chickpea pasta; Ottolenghi's ricotta meatballs; Alison Roman's harissa eggplant, Ina Garten's lemon shrimp pasta (you can get away with much less butter)
Some of what I've been writing:
PSAs:
What's in a name
Please enjoy my dad's list of names for this newsletter, dad jokes galore: Area 55; REALLY; Forget Me Not Really; Cannibal's Cave; Hannapurna; Kilimanjaro, Hahahahanna (and no, these don't have any logical explanations)
This newsletter's name actually comes from my frequent reporting partner's messages to me about how he fixed some "bits and bobs" in whatever piece we're working on at the moment.
A quarantine moment
I ask my partner to get traps at the store for the ants that have invaded the kitchen. "But I need the ants!" How could I forget! He, a filmmaker with no work, is shooting a short film starring the only subjects he can find. I hear stinkbugs are the bad guys.
Thank you for reading, and please let me know what you think in the comments, via social media or email! And if you feel so inclined, share this with your friends!
H
Tilda and Kirk, being cute